Bridge of Clay
9th October 2018
Bridge of Clay - Marcus Zusak
---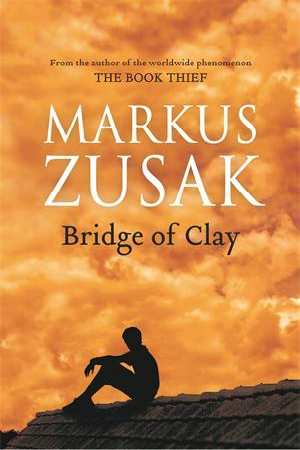 In the thirteen years since 'The Book Thief' was published it has sold 16 million copies worldwide and has spent 500 weeks on the New York Times' bestseller list. I first read 'The Book Thief' sometime around 2008 and it has been one of my all-time favourite books ever since. Given all this, can it be wondered that I picked up Zusak's new novel, 'Bridge of Clay', with some trepidation? As it turns out, I needn't have worried! It took me roughly six hours to read, and 2/3 of that time was spent glued to the page and completely oblivious of the world around me. Zusak is without a doubt a master of his art, and I was foolish to have doubted him even for a moment.
In a small house on the outskirts of the city live the five Dunbar brothers. Matthew, Rory, Henry, Clay, and Tommy. They live life by their own rules, raising each other as best they can with love and arguments and fist-fights and animals and old films. Their mother has died, and their father has fled, but life goes on. Clay, the quiet heart of this rough-and-tumble family, decides to go and help their father build a bridge, setting in motion a sequence of events that will leave no Dunbar unchanged. Ten years later Matthew will sit down with an old typewriter and tell the tale of the Dunbars – the grief and the good times and the journeys taken. Featuring a mistake-maker, a broken clothes peg, a stubborn donkey, a glorious girl, and leading ever on towards the bridge of Clay.
This is a sweeping family saga, weaving together the far-flung lives and times of this messy, lovely family. As we move towards and away from the devastating epicentre of this story, it is the small moments in these lives that stick most strongly. A boy sitting on a roof, a donkey in a kitchen, rain sweeping away dust and swirling under a bridge. Time after time these small moments prove to be of quiet significance, returning to the mind and page in a way that is both beautiful and heart-wrenching.
Zusak is well-know for his unusual but glorious narrative style, and he definitely delivers that again in 'Bridge of Clay'. All the characters are masterfully drawn, the story is clever and emotional, and the punches really just never stop coming. The Australian landscape, both city and country, sits quietly in the background refusing to be ignored – vivid in its bright, harsh, familiar beauty. Readers familiar with Zusak's previous books will recognise many of his recurring themes – argumentative but tight-knit families, tough love, fist-fights, family divisions more complex than can be seen on the surface, typewriters, and many more. I felt very much like I was reading all of Zusak's previous novels at once, but I also felt like I was reading something entirely new. This story is at times funny, continuously heart-breaking for roughly 400 pages, and is overall something that I am finding hard to define. It is well worth the 13-year wait, and I cannot recommend it highly enough.